What it is
Improve skin laxity with a non-invasive treatment 
SkinTyte –powered by BBL® HERO™️—is a non-invasive light-based treatment that reduces the appearance of skin laxity while also addressing pigmented lesions, skin flushing, and discoloration.
The treatment boosts the body's natural ability to regenerate youthful-looking skin by delivering uniform and targeted deep heating to the treated area.
The Science Behind BBL Technology
Technology
Wavelength: 420–1400nm
---
Filters: 420nm, 515nm, 560nm, 590nm, 640nm, 695nm, 800nm
---
Output: Up to 30 J/cm2
---
Pulse Width: Up to 200ms
---
Repetition Rate: Up to 1 pulse-per-second
---
Cooling Method: Continuous thermoelectric sapphire plates
---
Skin Cooling: Adjustable from 0 – 30˚C
---
Spot Size: 15 x 45mm
---
Finesse Adapters: 15 x 15mm square, 11mm & 7mm round
How
it Works
SkinTyte regenerates skin for a more youthful appearance.
This four-pass treatment addresses the signs of aging on all levels of the skin. A single pass corrects the skin's overall appearance, while multiple passes using different wavelengths of light address pigmented lesions, skin flushing, and skin laxity.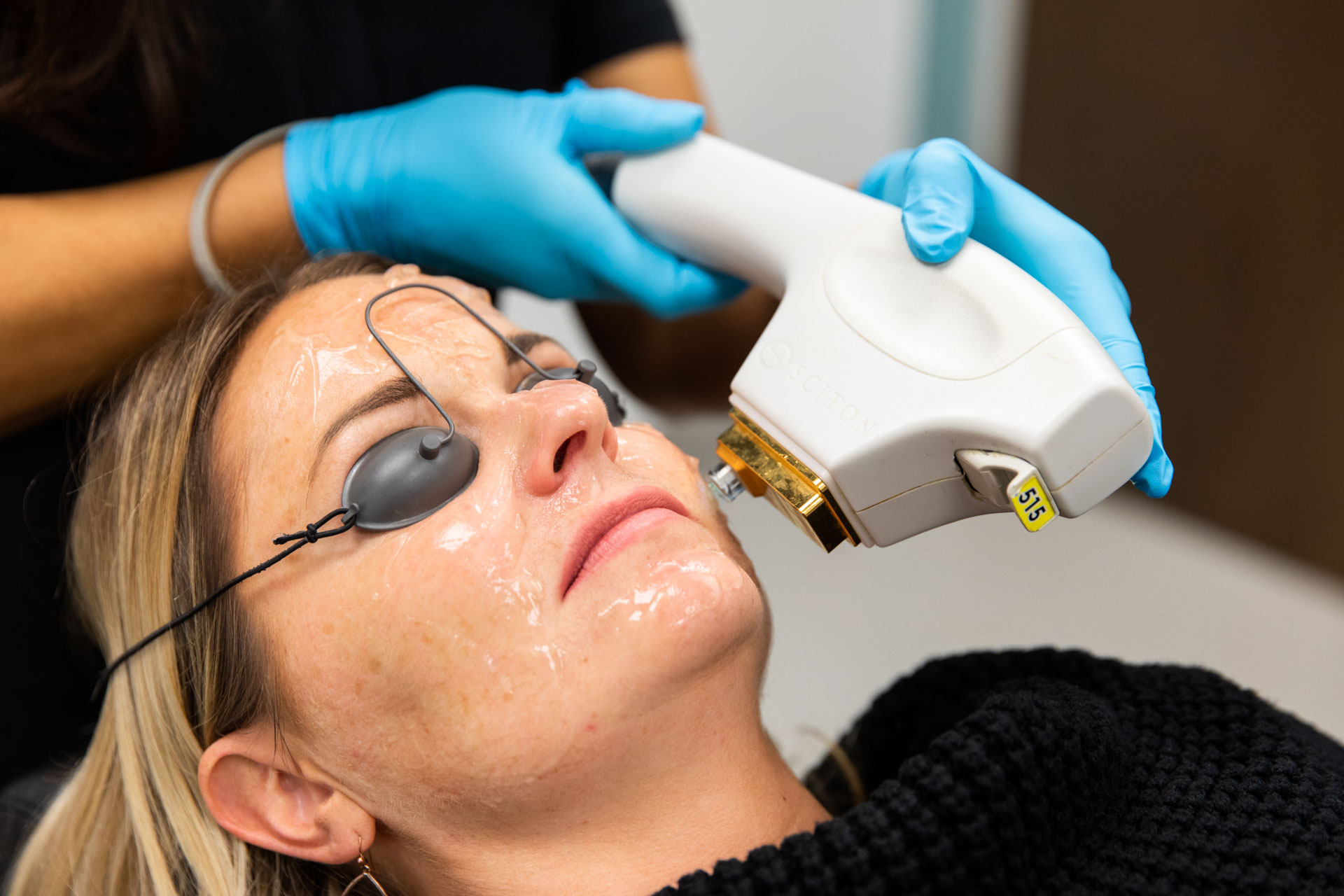 Treatable
Areas
SkinTyte is suitable for most skin types anywhere on the body:
What It
Treats
SkinTyte treats skin laxity.
What Patients Can Expect
Benefits
BroadBand Light (BBL) is a non-invasive light therapy that targets the visible signs of aging and sun damage for a more refreshed, rejuvenated, and youthful appearance.
SkinTyte is a skin firming technique that uses rapid, gentle pulses of BBL to heat soft tissue for clear, healthy skin. During the treatment, a combination of dermal heating and epidermal cooling keeps patients comfortable and downtime low.
For Physicians
Improve skin laxity with SkinTyte by Sciton.
Bring award-winning technology into your practice and discover the difference to your patient satisfaction and ROI.
Advanced Technologies with SkinTyte
BBL and SkinTyte – The Perfect Combination
Treatment Pearls for Skin Firming with SkinTyte II BBL
3 months post 5 SkinTyte™ treatments
Courtesy of Teresa Mann, MD
2 months post 3 SkinTyte™ treatments
Courtesy of Sara Molsbee, RN
Frequently Asked Questions
Complete
Revitalization
System
About Sciton
Because

Results Matter.

From the beginning, Sciton's founders shared one unified vision—to build exceptional lasers and light sources to improve people's lives.

Our award-winning platforms and treatment brands are designed and hand-build by the sharpest minds in the industry.