What it is
Permanent hair reduction with in-motion technology
Sciton's light-based laser hair reduction treatment with in-motion technology ensures consistent and thorough results every time—minimizing missed areas that may occur with traditional hair removal devices.
The device's intuitive interface allows providers to choose the appropriate skin type and hair follicle size for preset "safe start" parameters. Integrated safety features like large spot sizes and an enhanced cooling sapphire chill tip ensure patients' comfort during and after treatment.
Powerful Cooling

& Single-Degree Adjustability

Re-engineered cooling enables constant motion treatments without allowing the crystal temperature to fluctuate, which produces better, more consistent results.
Quick-Change

Spot Size Adaptors

Quickly change spot sizes with magnetic gold adaptors that instantly adjust for comfortable treatment of both small and highly contoured areas.
Dual

Flashlamp Technology

BBL® HERO™ offers extended lamp life via a dual flashlamp system. This reduces maintenance requirements and increases the reliability of your handpiece for better long-term ROI.
The Science Behind BBL
Technology
BBL delivers a gentle wavelength to target the pigment within the hair shaft while leaving the surrounding tissue unharmed.
---
The in-motion technology, large spot size, and enhanced cooling sapphire chill tip make Forever Bare BBL a fast, comfortable, and efficacious treatment for skin types I-V.
01. Overview
Unlike traditional laser hair removal, Forever BARE BBL sends multiple, lower-fluency pulses at a high repetition rate for a quicker, more effective treatment.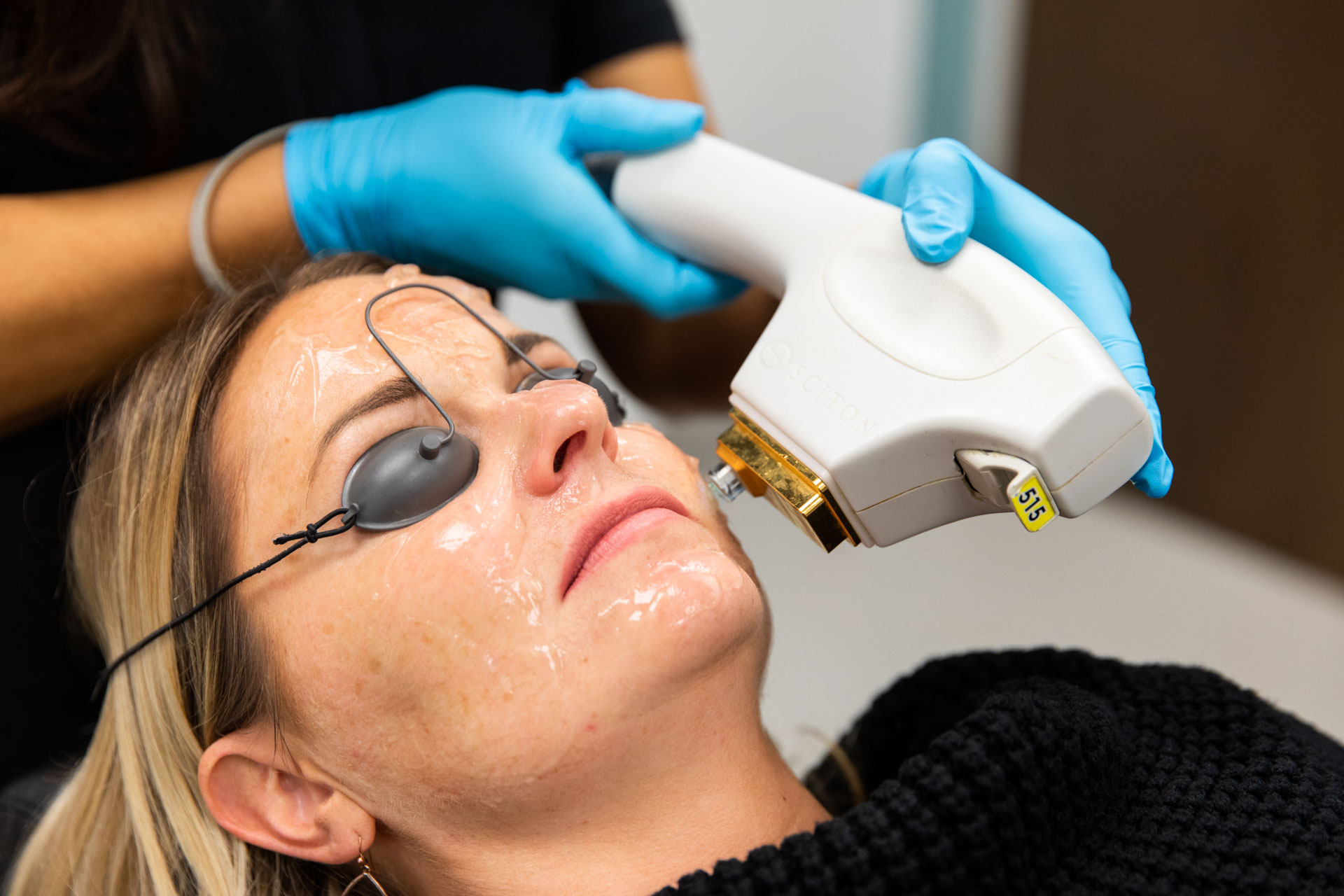 02. Multi-Pass Approach
BBL's motion technology allows for even heating of hair follicles and minimizes missed areas that occur with traditional hair removal devices.
Simply choose the appropriate skin type and hair follicle size, and Forever BARE BBL will provide you with preset "safe start" parameters.
Treatable
Areas
Forever BARE BBL treats all skin types, anywhere on the face and body.
What It
Treats
Forever BARE BBL reduces unwanted or excess hair.
What Patients Can Expect
Benefits
In 3-6 treatments, most patients can expect a significant reduction in the appearance of facial or body hair, with additional maintenance treatments offering a continued reduction in hair over time.
For Physicians
Reduce unwanted hair with Forever BARE BBL by Sciton.
Bring award-winning technology into your practice and discover the difference to your patient satisfaction and ROI.
Introducing Forever Bare BBL
4 months post 3 Forever BARE BBL™ treatments
Courtesy of Elizabeth Hagberg, MD
6 months post 3 Forever BARE BBL™ treatments
Courtesy of Sciton, Inc.
Frequently Asked Questions
Complete
Revitalization
System
About Sciton
Because

Results Matter.

From the beginning, Sciton's founders shared one unified vision—to build exceptional lasers and light sources to improve people's lives.

Our award-winning platforms and treatment brands are designed and hand-built by the sharpest minds in the industry.