The Solution for Your Top Skin Concerns: Pigmentation, Photo Damage, Acne, Redness & More
Legend has it that one sip from the fabled fountain of youth restores health and vitality.
The modern-day equivalent for restored skin health?

Sciton's proprietary technology, BBL HERO

—

rooted in science and backed by thousands of reviews and incredible before and afters.

This award-winning treatment improves the appearance of aging skin and reduces rosacea, acne, melasma, and sun spots

comfortably and with little to no downtime.

Put old wives' tales to rest and choose a trusted treatment for healthy skin.
World Renowned Brands Patients Rave About
1 month post 1 tx
Courtesy of Laura Granger, MD
Post 1 tx
Courtesy of Jason Pozner, MD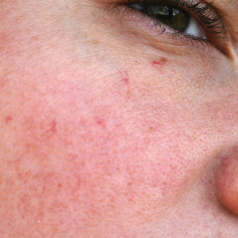 Appearance of Skin Laxity
Your provider will work with you to create a broadband light (BBL) customized treatment plan to address your skin revitalization needs—from corrective treatments to an ongoing skin care regimen.
Patients can enjoy normal social activities immediately after treatment, and there is no heavy or time-intensive post-care.
BBL HERO uses advanced cooling technology to keep treatments comfortable.
See noticeable improvement within weeks, with continued improvement over time.
What To Expect
You should feel minimal to no discomfort during treatment as your provider gently glides the BBL HERO handpiece across the skin. Simultaneously, a sapphire on the end of the applicator's device will keep the skin cool and comfortable. After treatment, most patients will continue to feel warm for an additional 30 to 60 minutes.
Patients receiving BBL HERO treatments can expect visible results in just 1 to 2 treatments, while less effective IPL technology often requires 5 to 6 treatments to show similar results.
Post Treatment Care
Patients typically can return to normal activities immediately following treatment with BBL HERO. Follow your provider's advice closely. Avoid direct sun exposure and wear sunscreen.
#1 Your skin may feel tender like a sunburn.
#2 During healing, pigmentation may darken, and some swelling and redness may persist temporarily. 
#3 Your body's natural healing process of replacing damaged cells with new cells will begin in the days to weeks following your treatment and will result in revitalized skin.
Healing Diary

The Sciton Difference
ScitonStaX™ Combination Treatments with BBL HERO
At Sciton, we've developed some of the world's most sought-after laser treatments for remarkable skin revitalization. Sciton treatments can be combined for the perfect skincare regimen–with solutions for almost every skin concern.
Often, providers will combine BBL HERO and MOXI laser treatments or BBL HERO and HALO laser treatments for superior skin results. Your provider will choose the StaX combination treatment appropriate for your skin concerns.
Find a BBL HERO Provider Near You
Let your skin speak louder than your age! Look as young as you feel with BBL HERO—schedule a consultation today.