July 13, 2023—A 'one size fits all' approach in aesthetics is outdated. A new way to address a combination of skin concerns, improve patient outcomes, minimize recovery time, and save patients' time has been revealed.¹
This method is known as stackable treatments, a concept coined by Dr. Julius Few, a renowned board-certified plastic surgeon and founder of The Few Institute of Aesthetic Plastic Surgery in Chicago.²
By stacking non-surgical treatment combinations, such as laser and light-based procedures, peels, injectables, ultrasound technology, and advanced skincare, the three primary aging skin components—skin wrinkling, volume loss, and skin laxity—are targeted for outstanding patient outcomes.²
Two procedures at the forefront of this new wave of stackable treatments are Sciton's award-winning Moxi™ laser and microneedling. When used concurrently, both treatments, which cater to all skin types, have been shown to significantly improve skin health.
Moxi™ Laser Treatment: How it Works
The foundation of this stacked treatment begins with Moxi, Sciton's 1927nm fractionated non-ablative laser. The Moxi treatment reduces pigment, corrects the initial signs of sun damage, and enhances overall skin tone and texture within a swift 12-15 minute session with minimal downtime or discomfort. Moxi is ideal for first-time laser patients seeking to delay the signs of aging skin or those looking for a year-round skin maintenance solution.
Moxi is designed to cater to all skin types, even darker skin tones, year-round.
Recent studies have found Moxi effective in resurfacing photoaged skin and treating pigmented lesions.3
What skin conditions are addressed with the Moxi laser
The Moxi laser can perform both low and high-density treatments for patients aiming to improve skin tone and texture, reduce unwanted pigment, minimize pore appearance, and treat pigment associated with melasma. Moreover, Moxi is FDA-cleared for treating Actinic Keratosis (AK), a precancerous skin condition.
What can patients expect during a Moxi facial treatment
The patient experience with Moxi is generally positive and tolerable. A slight warming sensation may be felt as the provider moves the laser across the skin, indicating the laser's effectiveness. Providers may apply numbing cream to the treatment area and use cooling air to minimize discomfort.
What is the recovery after Moxi
Patients can expect varying recovery times based on treatment levels and desired downtime. Typically, patients can resume normal activities immediately and wear makeup the next day. Moxi treatments generally yield smooth, clear skin between days 5-7.
How many Moxi treatments do patients need
Although results can be seen in as little as one treatment, most patients receive 3 to 4 corrective Moxi treatments, then often elect for regular maintenance treatments.
Radio Frequency (RF) Microneedling: How it Works
Microneedling is a minimally invasive cosmetic procedure that creates micro-punctures in the skin to improve the appearance of scars, acne, and wrinkles. The treatment takes between 30 minutes to an hour, with little to no downtime. When combined with radiofrequency energy, RF microneedling creates tiny microchannels in the skin using ultra-fine needles while simultaneously delivering radiofrequency.
What skin conditions are addressed with RF microneedling
RF microneedling can address a range of skin concerns. Studies have shown that microneedling treatments significantly improve the appearance of wrinkles, lines, skin laxity, and texture with minimal discomfort or downtime.
It's important to note that the FDA has not yet cleared RF microneedling for the improvement of wrinkles, lines, or skin laxity. However, microneedling is considered a safe and effective treatment for various dermatologic conditions in all skin types.4
How many RF microneedling treatments do patients need
Although the number of treatments needed will depend on the patient's skin response to microneedling, generally, 3-6 treatments are recommended every 4 to 6 weeks until the desired results are achieved. Patients typically see results with microneedling within a few weeks, with optimal results observed in 3-6 months.
The Synergy of Moxi™ & Microneedling
Moxi and RF microneedling treatments offer complementary benefits as they target different skin layers.5
While Moxi focuses on the surface layers to improve the appearance of skin tone and texture, fine lines, uneven pigmentation, sun damage, and mild scarring, RF microneedling penetrates deeper into the skin to enhance tightening and contouring, addressing skin concerns such as the appearance of enlarged pores, skin laxity, and deeper scars.5
Combining these treatments can address a wide range of skin concerns, yielding more noticeable, longer-lasting results.
The Benefits of Combining Moxi™ & Microneedling Treatments
The combination of Moxi and microneedling paves the way for a new era in aesthetics, offering enhanced patient outcomes and benefits often unachievable with a single modality. As we move forward, the focus on providing comprehensive solutions through layered treatments will become increasingly important.
Already a Moxi Provider? Enter the #SummerofMoxi Giveaway
If you're already a Moxi provider, don't forget to join the #SummerofMoxi giveaway. Details and prizes can be found by clicking here.
Treat your patients to Moxi all summer long! Reach out to a local Sciton team member to book a Moxi demo today.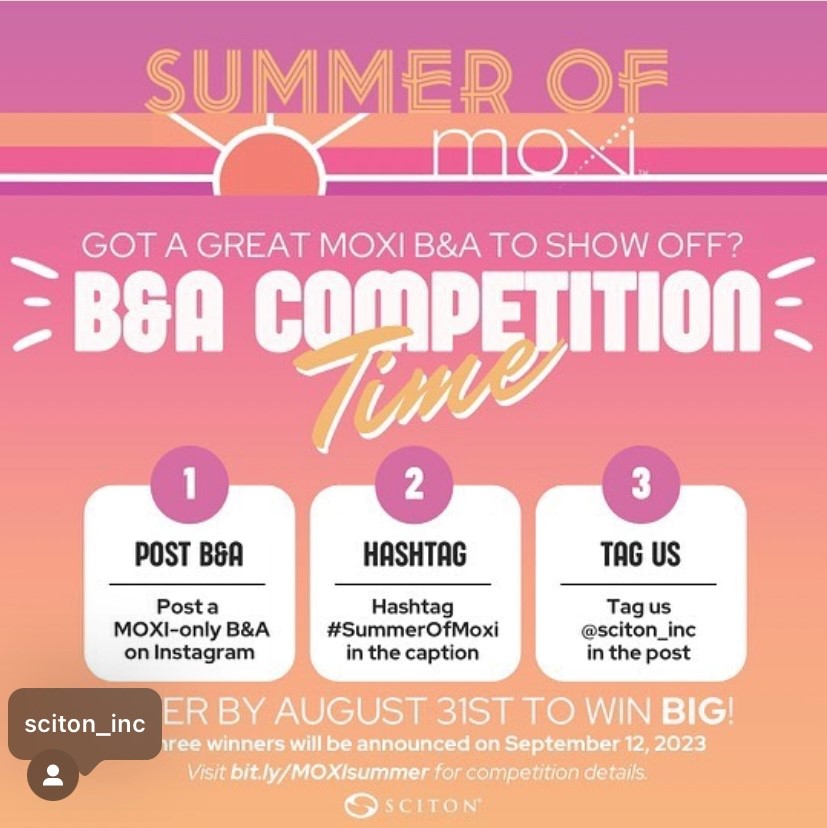 References:
1Industry Experts Series: Advice to Amplify Aesthetic Revenues
2The Ultimate Skin-Care Hack Is Layering Your Laser Treatments
3Vingan, N. R., Panton, J. A., Barillas, J., Lazzarini, A., Hoopman, J., Kenkel, J. M., & Culver, A. (2023). Investigating the efficacy of a fractionated 1927 nm laser for diffuse dyspigmentation and actinic changes. Lasers in Surgery and Medicine, 55(4), 344-358.
4Bonati LM, Epstein GK, Strugar TL. Microneedling in All Skin Types: A Review. J Drugs Dermatol. 2017 Apr 1;16(4):308-313. PMID: 28403263.
5Elevate Your Skincare Game: Combine RF Microneedling & MOXI Laser